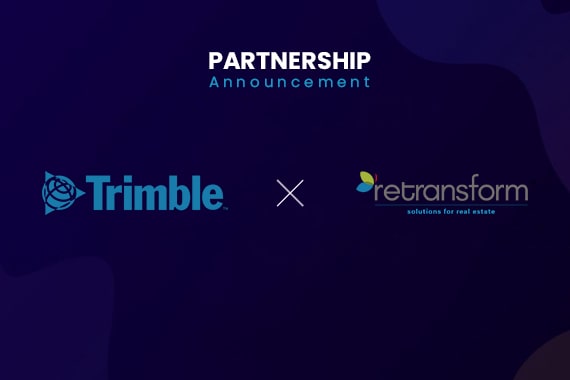 Retransform is one of many leading organizations to join our growing Global Alliance Program—a community of industry experts who have joined forces with Trimble Real Estate to provide implementation services and business strategy to customers around the world.
"We are happy to be one of Trimble's partners to offer implementation services for their real estate suite of products," said Pinkesh Shroff, Retransform's Vice President, Digital Transformation and Technology. "We continuously learn and innovate to improve our customers' businesses. We never stop looking for solutions to optimize real estate portfolios and enable digital workspaces, as well as options for customers' return-to-the-office business plans."
As a result of their desire to innovate, Retransform will now be an implementation partner for Trimble's ManhattanONE - a next generation, flexible IWMS solution for centralizing key real estate functions and data analyses essential for optimizing real estate performance, improving decision-making, and enhancing employee experience.
"The ManhattanONE product is a platform which truly provides customers with the required flexibility to automate their business processes using the powerful workflow engine and also secure the application by defining hierarchies and role-based security," said Retransform's Pinkesh Shroff. "It also provides an inbuilt reporting tool—with pre-built reports—and an ability to connect with other applications using their open APIs."
He added: "Trimble's room booking and 'business continuity' modules provide features such as automated physical distancing, workspace management and staggered scheduling to help organizations to reconfigure and manage their workplace to help return employees to the office and safeguard their well-being."
"With the suggestion of more hybrid workplace strategy models on the horizon, the need to enhance flexibility into leasing contracts as well as staying on top of breaks and options has never been more important." said Simon Blenkiron, Trimble Real Estate. "By building on our relationship with Retransform we can deliver joint initiatives that help customers adopt best practises with technology as the enabler; where data robustness, process adoption and analytics will help business leaders innovate more freely and define new ways to work."
For more information about Retransform, visit: www.retransform.com
For more information about Trimble Real Estate's Global Alliance Program, visit:
realestate.trimble.com/partners