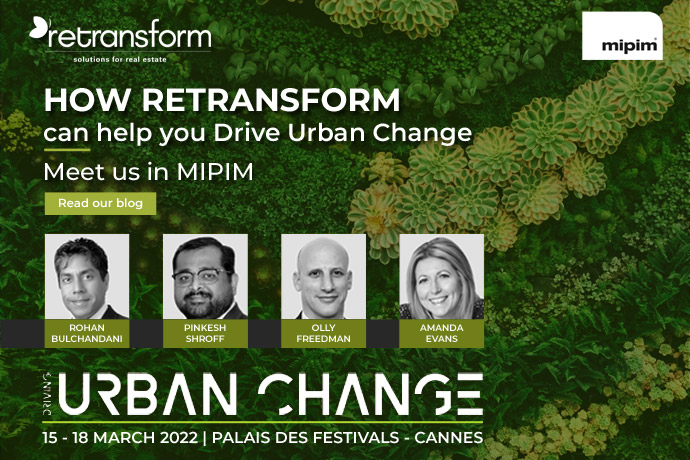 Retransform are delighted to be attending MIPIM in person this year, to be held in Cannes, France from 15th to 18th March 2022.
MIPIM is known as the world's leading real estate event and 17,000 of the most influential players of the international real estate industry are expected to attend this year.
The MIPIM 2022 theme is Driving Urban Change with the key pillars being: 
Green is the New Black;
Cities for Citizens;
The Office Uprising; Real Estate – Much More than an Asset;
Housing First; and
Real Estate Tech.
'Propel' by MIPIM is running concurrently in Cannes and focuses on the proptech industry – Real Estate Tech. Technology has been so vital in facilitating how the property industry has delivered 'business as usual' activity that it will be showcased at this year's MIPIM.
The Driving Urban Change theme reflects many of the issues that have faced us all over the last two years, particularly usage of our buildings and climate change. It's essential that the real estate industry focuses now on Environmental, Social and Governance (ESG) issues and how to better manage properties for the benefit of people and the environment.
Retransform are huge advocates of the ESG agenda and over the last 2 years have created our own solution for the real estate industry, using technology.
'Secure' helps to further ESG initiatives through digital twin technology and by collecting and analysing data from IoT (Internet of Things) sensors placed in buildings. It monitors aspects such as people occupancy, air quality, energy usage, waste management, temperature, parking, and lifts/elevators. This crucial information supports decision-makers on how they can reduce carbon emissions, improve customer experiences and reduce manpower for management / maintenance, while initiating pathway to net zero carbon emissions.
Retransform are so dedicated to supporting the real estate industry with the 'Race to Zero' that they are offering 5 businesses the chance to receive implementation of Secure free of charge. To find out more, please view https://secure.retransform.com/.
Attending MIPIM will be:
Rohan Bulchandani, Founder
Pinkesh Shroff, Vice President, Business Develoment for EMEA
Olly Freedman, Regional Director, Europe
Amanda Evans, Head of Global Marketing
If you are attending MIPIM and would like to meet our team in Cannes, do contact us on sales@retransform.com.