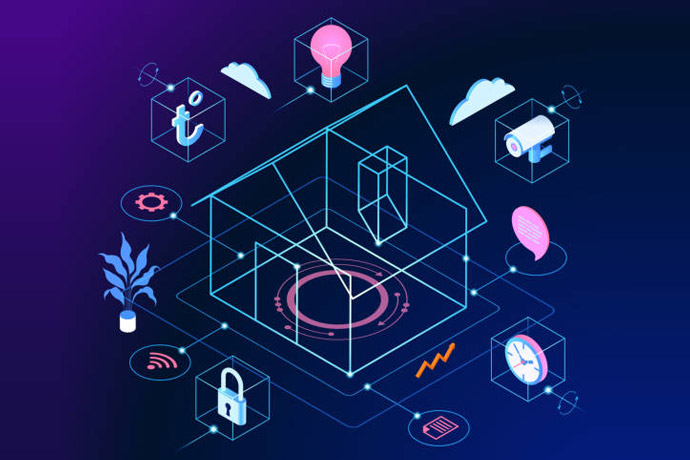 The concept of smart spaces has gathered a mighty pace in the past two years. The market, which includes hardware and software that essentially digitalizes office management, was valued at $30.5B in 2020 and is projected to reach $107.4B by 2030. This rapid growth is down to how creating a smart space can help property managers tackle three notable challenges.
First, how to meet ESG requirements. Awareness of energy use and how indoor air quality and temperature can affect employee well-being has become a huge deal for occupants, particularly in relation to net-zero carbon targets. Second, how to mitigate and manage the risks of a piece of machinery or equipment breaking down, which could bring the work of occupants to a standstill.
Finally, how to create an inspiring and efficient workplace, which has become more important as people return to offices following the pandemic. Where once people worked in cubicles, all day every day, businesses now realize the benefits of breakout spaces to support mental health and productivity, as well as to give employees an attractive option compared to working from home.
These are precisely the challenges that Retransform, a global proptech company, aims to resolve with its digital twin platform, Secure. Secure is designed to meet these emerging facilities management requirements by giving property owners, investors, managers, occupants and vendors real-time data to enable efficient decision-making.
Secure is a platform that collects, analyzes and manages information on building performance and delivers it in an easy-to-use format, Retransform Associate Vice President of Technology and Innovation Kaushlesh Chandel said. It also addresses how to effectively handle the physical aspects of property management, remotely.
"During periods of national lockdown, this ability became vital," Chandel said. "Secure can manage and monitor properties without the need to physically put someone in possible harm's way or use unnecessary resources. By using smart space technology, managers can keep tenants safe and look after multiple properties and their assets from off-site, using a mobile phone or laptop."
Secure works through a series of sensors that are placed in and around a building. These track real-time occupancy and monitor a wide range of aspects, such as air quality, waste management, temperature, occupancy level, parking lots, car garages and machinery such as elevators. It can monitor appliances by connecting with Internet of Things devices to deliver the big picture of how each building asset functions and how they all work together.
"By combining this data, it can produce reports that help a property manager make decisions about how the space is used," Chandel said. "This enables them to make cost savings, mitigate health and safety risks, and improve the environment for tenants."
An increasingly popular concept that Secure utilizes is the creation of a "digital twin." This is essentially a 3D digital image of a building that provides up-to-date visibility into operations and maintenance. A property manager can virtually walk through their building while checking the information provided by the physical sensors meets the desired requirements.
"The concept of digital twins is helping many industries," Chandel said. "Gas companies like Chevron are looking at digital twin technology for their oil fields and refineries and are expecting to save millions of dollars in maintenance costs. And Siemens has mentioned that using digital twins to model and prototype objects that have not been manufactured yet can reduce product defects and shorten time to market."
The Secure digital twin ensures that data from all IoT devices across all spaces is constantly being monitored by Secure's AI. It is physically impossible for a property manager to be at all properties and at all locations at the same time, monitoring everything.
"However, with the power of AI computing, Secure is able to read, decipher, understand and act upon all the data entering the digital twin in real time," Chandel said. "It is the equivalent of having persons present at all endpoints and ready to take action if an anomaly is detected, but without anybody actually being there."
In a building, having a digital twin can bring benefits to both property managers and tenants. Tenants can view the 3D model to understand how to use their own space effectively, have peace of mind that the building is being fully maintained and be alerted in case of crisis, Chandel said; as both parties have the same information, there is full transparency about how the building is performing, which will encourage tenants to keep office space post-pandemic.
"As we navigate out of the pandemic, people are questioning the need to return to a bricks-and-mortar office space," he said. "We have seen many occupiers re-evaluate their lease to determine if the return on investment will be there in the future. Using a smart space application such as Secure will help businesses reap the financial benefits of keeping a workspace open, such as improving employee retention by creating more enticing spaces for them to work in, as well as the ability to manage facilities off-site and optimize energy usage to deliver cost savings."
Chandel said that as the use of smart space applications grows, more sensors will come available. For example, sensors in everyday appliances could alert facilities managers when they need to maintain the item. As technology improves, the collective picture that sensors can create will, he said, go a long way to nurturing a positive corporate culture, improving employee engagement and, ultimately, productivity and innovation.
This article was produced in collaboration between Retransform and Studio B.