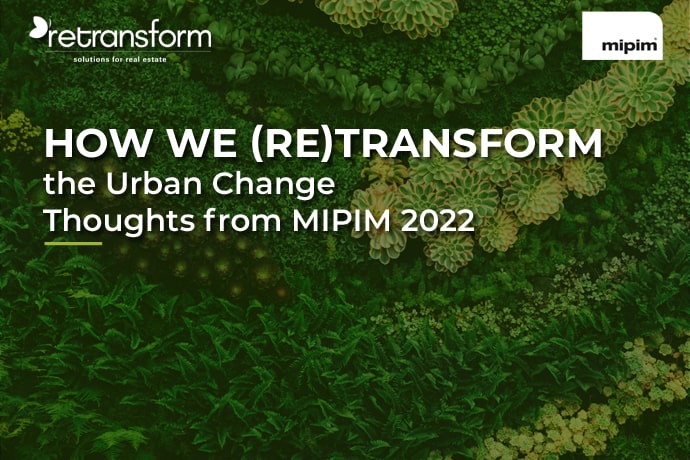 Perhaps more than any other year, re-joining 20,000 people at MIPIM this March allowed for some of the most promising discussions around the role of Proptech in real estate. Returning to our various offices around the world, we at Retransform know just how important our industry and solutions will be in 'driving urban change'. We also fully embrace the significance of our role in supporting clients to understand the potential in their business and in helping them to achieve a transformative impact on their triple bottom line.
Our team on the ground comprised Retransform's Founder Rohan Bulchandani, Vice President Pinkesh Shroff, Regional Director of Europe Olly Freeman as well as Head of Global Marketing, Amanda Evans.
They saw first-hand the large part of the Cannes-based conference that was dedicated to 'Propel by MIPIM', the only global event dedicated to technology and innovation. This demonstrates not just how quickly digital is taking hold of the property sector, but also how seriously everybody is taking it. The technology trend vastly accelerated by the pandemic is becoming central to life in real estate.
The overriding theme of MIPIM itself was Environment, Social and Governance (ESG) and how the real estate industry, together with local and national government must act now to 'drive urban change'.
Here are the key themes explored in 2022, what they mean for the built environment and how we, in partnership with our clients, can make them happen:
Cities for Citizens
We build and improve cities and urban places for their citizens, so they can thrive. Everything we do at Retransform comes down to people, whether that's assessing how they interact with different spaces, monitoring their environments or providing the tools they need to make positive adjustments.
This is precisely what our Secure platform is designed to do – to embed smart technology in buildings, ensure optimal performance and ultimately safeguard the health and happiness of their users. 
Green is the new Black 
With buildings responsible for consuming 40% of the world's energy, the advances required of technology to move the ESG agenda along have never been so sought after.
This is another key component of our Secure platform. It tracks real-time occupancy, monitoring a building's ambience, water, waste, carbon emissions and energy consumption in one dashboard. It offers landlords and property managers real-time data to enable efficient decision making, cutting consumption and supporting in the race to net zero.
Housing First
With the cost of energy bills rising, residential tenants increasingly benefit from 'smart' buildings to understand and indeed reduce their personal energy use. Our Secure sensors supply real-time data, available remotely or while at home via an app on the tenant's phone, allowing for better monitoring and more control. Plug-in technology such as this allows any new builds or retrofitted spaces to improve efficiency.
The Office Uprising
The way we work has changed forever. Our workplaces are following suit. The spaces and environments we create now need to help people to make connections, interact and collaborate. They also need to support safety and health like never before.
Technology is hugely helpful in creating and sustaining the workplaces of the future. Our Secure platform, for example, shows data on how a building or full portfolio is performing, supporting both property managers and users of the building. The 3D building replica, known as a digital twin, delivers real-time as well as remote visibility on operations, maintenance and building performance.
Real Estate Tech
With the proliferation, investment and advancement of digital technology in buildings, the question isn't so much 'when' but 'how much'. Measuring tools to undertake carbon calculations and fulfil ESG requirements are becoming commonplace and solutions to enhance our building environments are gathering pace.
There is a lot more to come in Proptech and we expect adoption to continue to rise. Legislation demands more accountability and responsibility for those in the built environment, not just in design and construction but in operation too. Indeed, a recent EY survey of 100 real estate industry leaders signals this evolution, with two-thirds saying that adopting new technologies was a strategic priority. We're here and excited to help make this happen.
With nearly 25 years' experience and multiple software services in this space, we've learned a thing or two about supporting our clients with the tools they need to make better decisions.
If you'd like Retransform to support you on your proptech journey, contact us at sales@retransform.com.