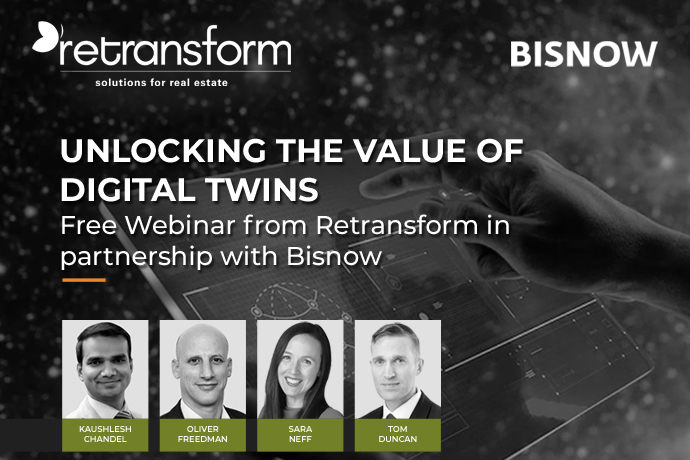 Retransform recently collaborated with Bisnow to host a 'digital twin' technology webinar, focused on how it is transforming the world of real estate and property management. Plus, how to harness its potential.
Retransform's Head of Marketing Amanda Evans headed up the conversation, alongside our European Director Olly Freedman and Head of Technology & Innovation, Kaushlesh Chandel. The team spoke with Sara Neff, Head of Sustainability at Lendlease in the Americas, and Tom Duncan, Head of Research and Investment Strategy at Cromwell Property Group.
Here are some top tips from the webinar, which you can also view in full:
Digital twins explained
 A digital twin is a virtual, electronic representation of a physical asset or process that exists in real life. The scale is limitless. Whole cities now have digital twins, and on a micro level, anyone can create a digital twin of their own kitchen, simply by using an app. Historically, the aviation industry was first to embrace the new technology and it's now widely used in the field of medicine and many other industries. The digital twin market was worth around £4bn in 2019 with £35bn predicted by 2035.
With the recent convergence of smart building systems, AI and IoT, interest in the use of digital twins in the real estate sector has accelerated fast, particularly in light of the ESG agenda. For example, by bridging the gap between knowledge and implementation, twins are powerful decarbonisation and dematerialisation tools, for both new and existing buildings.
Getting started
So, taking ESG as an example, where do you begin if you're considering using digital twin technology. It's important to stress that having a digital strategy is an absolute fundamental because the data a twin can provide has such a wide range of possible applications. For example, during the pandemic, digital twins provided crucial evidence of how office buildings were being used during lockdowns, allowing for more efficient operation and employee safety. In cities, they can be used to plan infrastructure.
Your first four steps:
Assess your current consumption
Define your ESG goals
Consider traceability
Define your data points
By creating a twin ESG platform to measure and analyse data, you can make highly accurate predictions on where you should invest in energy efficiency. You're effectively turning your building into a computer – and that derisks real estate because you can choose exactly how and where you optimise or enhance performance.
The power of digital twins
In Tom Duncan's words: "The future of real estate is 4D. Looking at a digital strategy is really table stakes if you want to respond to user needs." For Cromwell Property Group, he said digital twin technology delivers substantial benefits in three key areas:
Risk: mitigating increasing risks, enabling for example preemptive obsolescence and identifying potential vulnerabilities in servicing
Resilience: enabling preventative maintenance and allowing them to prepare responses to emergency scenarios (for example, key equipment breaking down) with no risk to revenue and reputation
Return: delivering a better experience for occupiers, driving rental growth and increasing operational efficiency by using energy more intelligently
Using digital twins can also help secure new business because it reduces costs and prevents clashes between trades, keeping construction projects on schedule and on budget. In a wider context, digital twins can expand and enrich our use of buildings immeasurably, while also helping us meet sustainability goals as we move towards net zero.
Kaushlesh summarised the power of digital twins as the three Ps:
Planet: from an energy savings perspective, digital twins enable much better control and management of buildings, all of which reduce the use of carbon
People: transforming physical assets into digital assets creates smart buildings that feature flexible, digital amenities, enriching the tenant's experience
Performance: by introducing digital twin technology, you can optimise your asset much more easily, using features like preventative maintenance
As Sara Neff pointed out, our buildings weren't designed around the needs and priorities that have arisen over the past two years. This is where digital twins can really build our knowledge and help us push forward efficiencies by "reading" buildings and how they are occupied in great detail. She said: "Digital twins are really going to help us take in the data, learn what the new world is, and then respond accordingly."
Choosing digital twin does require a change in mindset within the industry. There are also the inevitable tech-related security and safety issues to consider. But in terms of detail, ease of use and sheer scope, using digital twins is transformative – like the difference between using paper maps and google maps. Tom summed it up brilliantly: "It's not a differentiator now, it's something that you really have to have."
If you want to know more about how we are using digital twin technology to help our clients, get in touch. We also have a dedicated product for this technology that will transform your business, Secure. Find out more about it and join us on the digital twin journey.