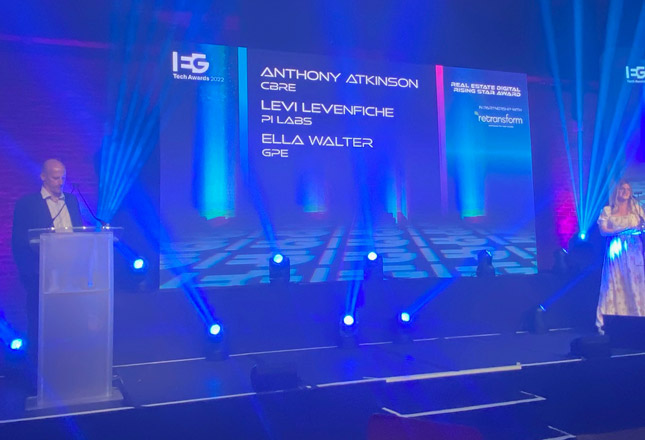 The fifth annual EG Tech Awards, held at The Brewery in London on 6 July 2022 were a great success. The first in-person event for a while with over 300 attendees and a set of great businesses sponsoring the categories – Retransform included.
There was a real buzz in the air, as those working from home or hybrid for many months, were out at a real-life event, excited to meet each other to talk in person and were dressed up for the auspicious occasion!
EG received over 200 entries across all twelve awards this year. Retransform sponsored the Real Estate Digital Rising Star award, celebrating innovation and success in the tech space. The winner was… Anthony Atkinson, an Enterprise Accounts Graduate at CBRE! Congratulations to Anthony, who had created a metaverse concept for CBRE which impressed the judges.
Olly Freedman, Regional Director of Europe at Retransform, was on the judging panel and said:
"Supporting new talent is an important part of our ethos at Retransform. We want to help the next generation to forge out their own path, bringing fresh thinking and a new perspective to PropTech. It was a pleasure to be part of the judging team rewarding the future of the real estate sector."
Other stand out winners on the day were GPE, winning both the Innovation Award and Bridging the Gap Award, LendInvest for the Investment Award, TSP for Innovation Award (Building) and A/O Proptech for the Tech Investment Award.
Conversations at the event were very much about ESG and how businesses are tackling it. Emily Wright, Head of Content at EG and host of the event, stated that the ESG category this year had been one of the most popular for entries and one of the toughest to judge.
Emily summed it up with:
"All of this is testament to the dedication to digital transformation by both technology and property companies out there."
Learn more about Retransform's ESG solution – Secure.